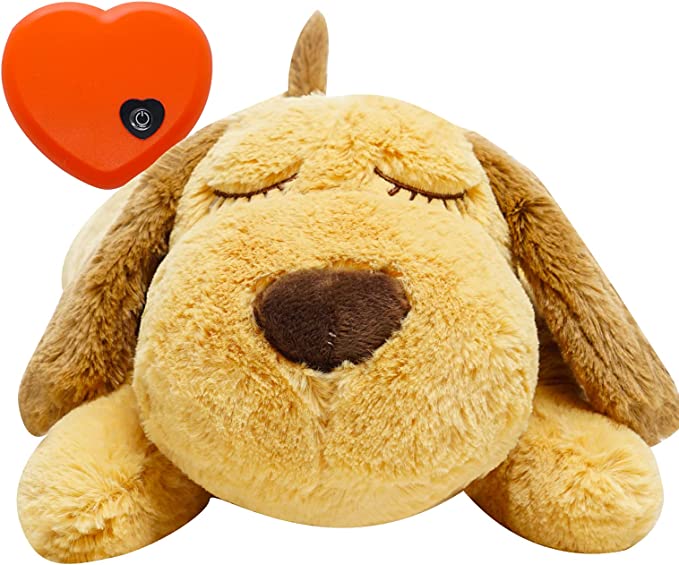 Dog Heartbeat Toy for Anxiety Relief | Soft Plush Toy For Pets Behavioural Training | Heartbeat Toy for Cats & Dogs
Visitors are browsing our store
Hurry! this special sale ends in
In Stock

Dogs are social animals. We alleviate the dog's various anxieties by simulating the scene of companionship by Simulating a heartbeat.
Puppy behavioural training aid toy reduces negative behaviours resulting from anxiety or loneliness through natural instinct, not through medication.
【Heartbeat Stuffed Animal】The soft plush toy is made of super soft, non-toxic, safe and skin-friendly fabrics. The heartbeat toy provides the best companionship and comfort to the dog during the night, during the journey, during thunder and lightning, and effectively reduces the anxiety and fear of the dog.


【Machine Washable】The batteries(not included)will last 3 weeks straight with continuous use, and can be easily replaced as needed.The plush dog toys is made from comfortable, skin-friendly fabrics, and it can be machine washable with the heart removed.


【Pet Calming Solution】All natural, without medication or restraint. Dogs and puppies are pack animals who are instinctively drawn to their mother and others in their pack. The toy recreates that intimacy with physical warmth and a 'real-feel' pulsing heartbeat, providing an extra source of comfort for your pet.



【A Perfect Gift for Puppy】The soft puppy plush bear helps to reduce anxiety for your pets. Perfect for new puppy owners and help to ease your puppies come into a new home.