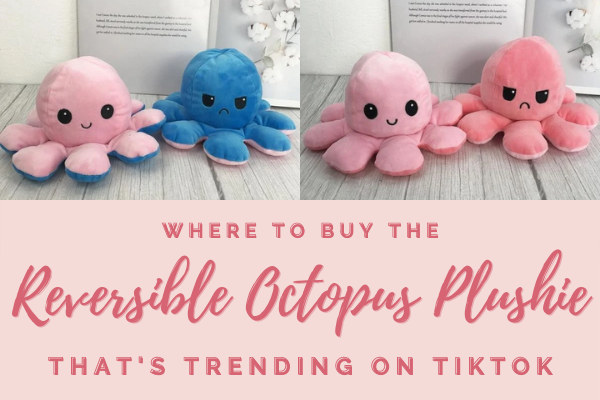 Where to Buy the Reversible Octopus Plushie That's Trending on TikTok!
Do we all remember when "as-seen-on-TV" products were a trend? It seems that now, "as-seen-on-TikTok" is the new version of that, and everyone is raving about it. If you're someone who follows trends, you must know the popular TikTok hashtag #tiktokmademebuyit.
In the last year, TikTok has blown up with trending product reviews and recommendations. Creators give honest and fun reviews on Tiktok, the kind that we had not seen before this app. Now, even the most cautious consumers may have found themselves influenced by these trending products on Tiktok - from the butt-lifting leggings to strange gadgets - wondering if these products are really as magical as these influencers deem them to be.
If there is one product you must try from TikTok, the most fun trend thus far has to be the Reversible Octopus Plush Toy! This stuffed animal went viral in 2020 when TikTok couples began to share videos of them using this toy to communicate their emotions with one another. Whether you are feeling happy or angry, it's so fun to express your mood by flipping this plushie. Inevitably, this adorable plush became a best-selling item in no time. This toy intended for children has now become popular amongst adults - and we can't blame them!
You may have been tempted to purchase this irresistible product every time you see a TikTok about it. Well, look no further! This is where you should go to buy the Reversible Octopus Plushie that you've seen all over TikTok. 
Octopus Mood Toy sells the largest variety of these Octopus Plush Toys on the market! As Amazon sells 12 color variations of this plush, Octopus Mood Toy sells 15! Not only that, but they sell these unique Reversible Octopus Mood Plush Keychains. If you're addicted to the full sized plushies, you can keep a miniature version of it on your keys to always have it with you (these would make for a great fit as well).
Now that this product is TikTok-approved and trending, rise to the occasion and get an array of these Reversible Octopus Plush Toys in a variety of different colors - for yourself, your significant other, siblings, kids… the possibilities are endless! This is the perfect gift for any occasion. 
Shop now to choose from a large variety of colors: