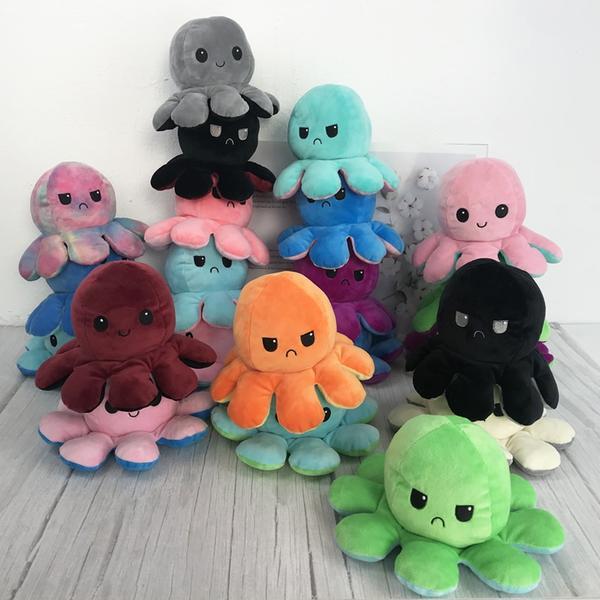 How this viral reversible octopus plush toy, could help or save your relationship
Good communication and comfort can sometimes be difficult to find and hold in relationships. Talking about your feelings can be difficult and no one wants to come off too strong or difficult. This adorable octopus plush toy can help you out along the way to mastering healthy and comfortable communication in your relationship. 
This cute reversible octopus plushie is going viral all over the internet, especially on TikTok, for not only being charming, but also because it can be used to help people express their emotions in a fun and moderate way. This reversible octopus plush is a stuffed toy with two sides, one portraying happy emotions and one that depicts an angry/sad face. So whether you feel happy or angry, you can express yourself with these adorable octopus plush toys! The reversible design makes it adaptable and the perfect gift for anyone, not just children. It's a huge hit across the internet trends, especially with ladies with
boyfriends or husbands with slight communication issues. 
Fellas, have you ever been going about your everyday life and out of nowhere, boom your special lady is upset or mad about something but doesn't want to directly tell you? Well, if you get her this reversible octopus plush toy, you can tell when and how she's feeling! Then you can approach the situation with at least some knowledge of her emotions and go about helping her, or even just being there for her. The best part is, this can go both ways! You can also express your emotions without needing to say a word, perfect for those situations when you feel as though you're walking on eggshells. 
Many men are gifting these adorable plushies to their girlfriends because they struggle to read their attitude and moods, so now when she/he is in a bad mood and wants it to be know, or for someone to reach out to them, all they have to do is flip the plush inside out. Then the opposite party knows to avoid bringing extra or unnecessary stress and concerns onto their partner, knowing that they are already upset and don't need more issues to pile up on them. After all, healthy communication and emotional convention is all a part of a healthy and loving relationship! 
With vibrant emotive colors and expressions, these adorable octopuses are sure to make your family bond better. All of them are reversible and can be hand washed for a cleaner emotive experience. 
So what are you waiting for? Get yourself or your partner a gift they can use all the time and help convey emotion and mood! So pick out your partner's favorite colors and surprise them with their very own emotion conveying, reversible octopus plush toy!
Click Here!